Services for kitchen fire restoration and repair in Canada, including Ontario.
The leading cause of residential house fires in the kitchen fire. It can quickly spread throughout the entire room.
A house fire can be a major inconvenience, especially if it happens in the kitchen. The fire can quickly spread through the entire room, leaving behind a trail of destruction, regardless of whether it is from unattended cooking or grease fire. One of the most common causes of residential fires is kitchen fires.
U-Way Bright Homes has some of the most skilled and respected experts in central Canada on kitchen fire restoration and repair. We provide these services to homes throughout Ontario, Canada, and other surrounding areas.
Common Causes of Kitchen Fires
Kitchen fires can often be caused by cooking mishaps. Here are some common ways kitchen fires have started:
Hazardous items too close to the stove. Dishrags and potholders, as well as paper towels, can catch fire if placed too close.
Frying food with oil improperly: A deep fryer is better than a pan if you prefer to fry with oil. 

If you choose to use a pan, make sure that the oil is only enough to cover the bottom.

 

You should also make sure you clean up any crumbs from the oven.

Don't leave cooking unattended As anything can happen, you should not walk away from an open flame or hot burner.
Older appliances: A faulty stove can lead to disaster. 

A gas leak or spark can set off a firestorm and cause the entire house to burst into flames.
Prevent kitchen fires by being proactive. Never leave a flame-lit burner or open flame.
Our Kitchen Fire Repair & Restoration Process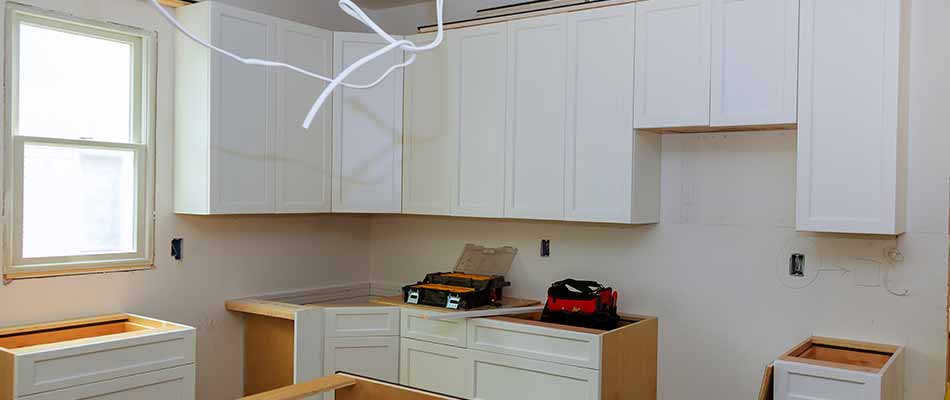 Our top-rated contractors are available to quickly assess the damage and respond to any kitchen fires. We will give you a quote and work with your insurer. The following steps are part of our restoration and repair process:
Kitchen cabinets replaced

Repairing the flooring

Installation of new appliances

New countertops
Unless they feel the fire was caused due to negligence on your part, most kitchen fire damage will be covered under your insurance.
Have you had a kitchen fire in your home? We're available 24/7 to help you fix it.
We offer kitchen fire restoration and repair services in Ontario Canada and other areas. For emergencies, our teams are available 24 hours a day, 7-day a week. We can help with any damage caused by a kitchen fire. Call us at 705-686-7774