Top Five Tips to Stop and Repair Home Water Damage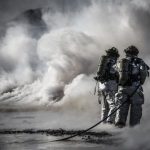 People might believe water damage is always connected with natural disasters like monsoons, typhoons, and storms. However, this can develop when there are leaking roofs and pipelines, clogged-up gutters, or even condensation from your AC. Water damage is not something to sleep on, as it can destroy a house fast. Now let's discuss how you can remediate or stop the water damage in your home.
How to Fix Water Damage in the House
If you are reading this now, you may have observed indicators of water damage in your home and want to do something to remediate it. Although water damage may be stressful to deal with, you do not have to panic. Below are five helpful pointers to help you stop and repair the home water damage.
1. Identify the water source
The initial step to repairing home water damage in determining the water source. Next, you must know if your leaking pipes or natural disaster triggered the damage. In other cases, this may be challenging to identify, especially if the water source is behind the wall or above the ceiling.
After you have found the main source of water, this is when you need to do something to remedy the issue. First, evaluate the situation to see if it's something you can take on. If it is not, you might need to employ local restoration experts to do the job. You may browse the web to read more about their rates and services.
2. Clean standing water
Clearing and cleaning any standing water is the next step to fixing water damage. The pools of water in low areas are a usual scenario in many water damage situations. You may use a wet or dry vacuum to remove water or debris from flooding. However, extreme flooding cases may need larger commercial water extractors to deal with the density and volume of contaminated water.
3. Dry the area immediately
It is needed to take action immediately when repairing water damage in the house. This is because mold and mildew can start growing within 24 hours if there is water left standing around. Drying includes removing things or furniture in the impacted areas and placing fans on the damp walls and flooring.
If the water damage is extensive and your fans are not enough to dry the place immediately, this is the right time to hire professionals specializing in water remediation in Springdale. They have the best devices, tools, understanding, and experience to perform the job conveniently and expertly.
4. Check for hidden moisture
Once the standing water is cleaned from the enclosure and fans are activated to begin the drying procedure, it's suggested to examine your home to see if hidden areas may need water damage repair. For example, examine the floorboards and the padding under the carpet to see if water has pervaded these areas. If you spot moisture in these places, place electric fans around the room to dry them out quickly.
5. Look for molds and disinfect the area
Once the area is fully dry, the next step would be to look for places of water damage in the house where there are molds. Some kinds of mold can be hazardous and poisonous to humans. However, if it's just a small mold problem, it's possible to execute the task of removing it yourself without a professional's assistance. Decontaminate spots affected by the water damage repair efforts with a bleach solution to guarantee the elimination of germs and molds.